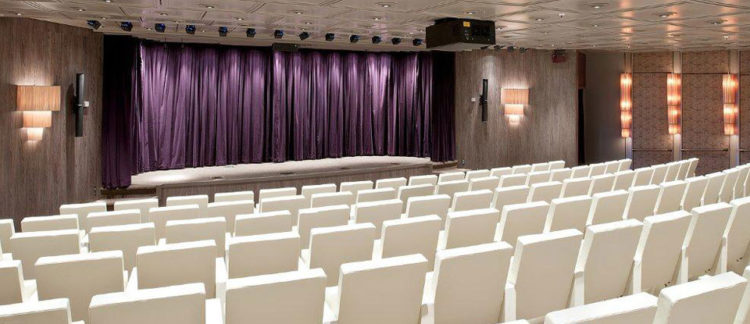 Crystal® has long been renowned for our lavish entertainment, with large-scale productions uniting West End and Broadway, intimate lounges, cabarets and karaoke, and dance clubs for disco and hip-hop.
In virtually every industry poll, Crystal Cruises® ranks number one for our exceptional entertainment. With the most diverse activity and entertainment programs afloat, even the most discerning theatre-goers, concert-lovers and dance aficionados will appreciate the musical styles that range from nostalgic and classical to popular and contemporary.
Bars & Lounges

Avenue Saloon
Crystal's signature cocktail and piano bar known for its intimate "clubby" atmosphere on both Crystal Serenity® and Crystal Symphony®.
With an impressive selection ranging from Monte Cristo to Davidoff, this refined club-like cigar lounge is ideal for after-dinner drinks and conversation.
Pulse
Located near the Avenue Saloon and Connoisseur Club aboard Crystal Serenity, this high-energy dance club plays all the latest hits with a mix of long-time favorites.
Starlite
Centrally located in the middle of Crystal Symphony's main activity deck, a dramatic round bar takes center stage in this stylishly open environment offering panoramic sea views.  With window walls sparkling with Swarovski crystals, the new Starlight Club is the place to see and be seen, featuring lectures by day and dancing by night.
Stardust
This welcoming and comfortable lounge on Crystal Serenity is the perfect place for a pre-dinner dance and aperitif, and after dinner dancing as well. Throughout your cruise, here you will also enjoy intimate performances, recitals and special lectures.
Crystal Cove
Located just off the two-story Crystal Plaza in the very heart of both ships, the Crystal Cove piano bar is a perfect spot to enjoy an aperitif or specialty drink any time of day.
Palm Court
With panoramic sea vistas enjoyed through vast floor-to-ceiling window walls, this delightfully airy forward lounge hosts Afternoon Tea daily, evening dancing and entertainment, classical music concerts and special parties.

Galaxy Lounge (showroom)
The main showroom for Crystal's award-winning Broadway-style production shows and headline entertainers features exceptionally comfortable seating and a hydraulic-rising stage for optimum viewing from anywhere in the room. In addition to the sophisticated staging, the acclaimed shows each feature elaborate costumes and sets created by renowned designers with decades of theatrical experience.
Hollywood Theatre
Enjoy a selection of popular recent-release and classic films in the ultra-comfy confines of our shipboard theatres featuring Dolby sound and multi-lingual translation systems. Devices for the hearing impaired are also provided.
Resorts World At Sea Casino
Glittering and stylish with fabulous chandeliers and an air of energized excitement, Resorts World At Sea casino aboard our ships offer thrilling games of chance featuring Blackjack, Craps, Roulette, 3 Card Poker*, Ultimate Texas Hold'em* and Mini-Baccarat (on request), as well as slot and video poker machines.
A casino shipboard advance of up to $300 per person, per day (up to a maximum of $3,000 per cruise), may be charged to your shipboard account. A line of credit may also be established prior to your cruise by completing an online application at the Priority Check-in & Planning Center. Click here for PCPC. To download a .pdf version of the application, click here . Please allow 2-3 weeks processing time prior to the start of the cruise. Please contact our Casino Coordinator at 310-203-4372 if any further assistance or information is required.
Credit/Debit Card Cash Advances Onboard
Resorts World At Sea casino patrons' enjoyment is further enhanced with the convenience of Global Cash Access— a service that enables our guests to obtain cash advances using their credit or debit cards directly at the Casino Cage. The guests' credit or debit cards must be presented to our cage personnel at the time of cash advance request. Cash advance limits will apply and are dependent on the guests' personal daily allowable withdrawals as determined by the (card) issuing financial institution. A nominal fee will apply for using this service.
Resorts World At Sea General Guidelines
• Guests must be at least 18 years of age to enter the gaming areas, or to play any monetary-based games of chance (including Bingo) on board.
The Resorts World At Sea casino offers Nevada-style gaming and is subject to closure in various ports, with or without notice. Casino gaming services are available on all voyages aboard Crystal Serenity and Crystal Symphony; and on full-charter Crystal Esprit voyages (on request) only.
* Proprietary game and trademark used under license from SHFL entertainment, Inc.
Waves / Fantasia
Each ship features dedicated play areas for both young kids and teens. Fantasia welcomes children ages 3-12, with tables and chairs for arts and crafts, popular Sony PlayStation® game titles, a large screen television set and board games. A video arcade at Waves keeps teens ages 13-17 entertained as well.
Library
Between Crystal Symphony and Crystal Serenity, our well-stocked Library contains over 8,000 books on subjects ranging from classics to popular biographies, history to contemporary mysteries. There is also an entertaining selection of over 2,000 DVD movie titles plus CDs, magazines, audio books and a generous selection of board games which may be borrowed without charge for your enjoyment during the cruise.
Ambassador Hosts
  Dancing to live music is a nightly highlight aboard both Crystal Serenity and Crystal Symphony. Whether traveling alone or with others, we invite you to hone your skills at dance classes taught by award-winning international dancers.
On every sailing, Crystal is pleased to offer a host program that includes carefully screened gentlemen with interests and backgrounds similar to those of our guests. Each distinguished Ambassador Host is cultured, well traveled and an accomplished ballroom dancer.
CLICK ON THE LINKS BELOW . . .
REVIEW THE ITINERARY | ABOUT THE SHIP
FINE DINING ABOARD THE SYMPHONY | SHORE EXCURSIONS
ENTERTAINMENT | ALL INCLUSIVE PRICING | BOOK YOUR CRUISE NOW

by telephone: 805-227-0830 or 805-443-7112
Terroirs Travels is an Associate of Frosch Travel, one of the top ten leading travel management companies in America