Cruise along the Rhine through Germany, France and Switzerland to delight in the wide array of wonderful experiences this region is home to.
Immerse yourself in history as you stroll through beautifully preserved medieval towns and a stunning imperial palace. Sample the fruits of the Rhine's famously excellent wineries and enjoy traditional treats as you follow your local guides through the destinations they call home. And, to fully appreciate the lush environment of this verdant river valley, we'll give you several opportunities to get active out in nature—such as a canoe ride through the Mainschleife nature reserve. The Rhine also gives us access to such remarkable destinations as the Alsatian capital of Strasbourg or the multicultural city of Basel in Switzerland.
Day 1  Nuremberg (Embark)
Arrive at Nuremberg Airport. If your cruise includes a group arrival transfer or if you have purchased a private arrival transfer, you will be greeted by a Uniworld representative and transferred to the ship.
Day 2 Bamberg
Bamberg in its entirety is not only described as beautiful but has often been regarded as one of Germany's most attractive settlements, with its picturesque architecture, intersecting canals and rivers, and charming stores and restaurants, all framed by rolling hills.\
In the evening, a special Captain's Welcome Reception and Dinner will be prepared for you.
Day 3 Volkach
Your day brings you to Volkach and the heart of the Franconian wine country. It's a region full of overwhelming natural beauty, rooted communities, marvelous flavors and villages that have been making wine for countless generations. Explore the town and its surrounding countryside.
Day 4  Würzburg
The opulent Würzburg Residence, a UNESCO World Heritage Site, offers a true sense of the region's history through the European Renaissance. It even contains the world's largest ceiling fresco by Tiepolo. Visit the Residence and its carefully restored gardens or get outdoors and enjoy a scenic hike around Festung Marienberg, a prominent landmark that was previously home to a long line of prince-bishops.
Day 5 Miltenberg
The perfect German town calls for a day full of quintessential German experiences. Resting on the left bank of the Main, Miltenberg is classically quaint with its charming squares, farmland, biking and pedestrian paths, impressive castles and one of Germany's oldest inns.
Day 6 Frankfurt
Frankfurt is known as the "Mainhattan" of Europe—"main" because the Main River flows through the city. A financial powerhouse with soaring skyscrapers as well as traditional Old Town architecture, Frankfurt is a city full of energy and culture.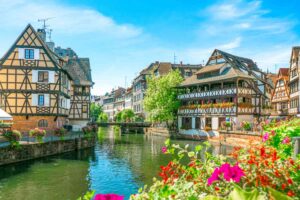 Day 7 Rastatt, Strasbourg
Strasbourg is invariably described as quaint, with its cobbled lanes, half-timbered homes, giant stork nests and impossible-to-resist pastry shops. While we're docked here today, make sure to get out and explore this charming town—but you won't want to miss our day trip to the blissful spa town of Baden-Baden.
In the evening, a special Captain's Farewell Reception and Dinner will be prepared for you.
Day 8  Basel, Kembs (Disembark)
Disembark the ship. If your cruise package includes a group departure transfer or if you have purchased a private departure transfer, you will be transferred to EuroAirport Basel Mulhouse Freiburg airport for your flight home.
CLICK ON THE LINKS BELOW . . .
OVERVIEW
REVIEW THE ITINERARY |  FIND OUT MORE ABOUT THE SHIP
ALL INCLUSIVE PRICING  |  BOOK YOUR CRUISE NOW
POST-CRUISE BROCHURE & REGISTRATION –  July 24-28/2024: Annecy and The French Alps…
Coming soon!
by telephone: 805-443-7112
Terroirs Travels is an Independent Travel Consultant affiliate of Frosch.