Bordeaux to Bordeaux | 7 Nights/8 Days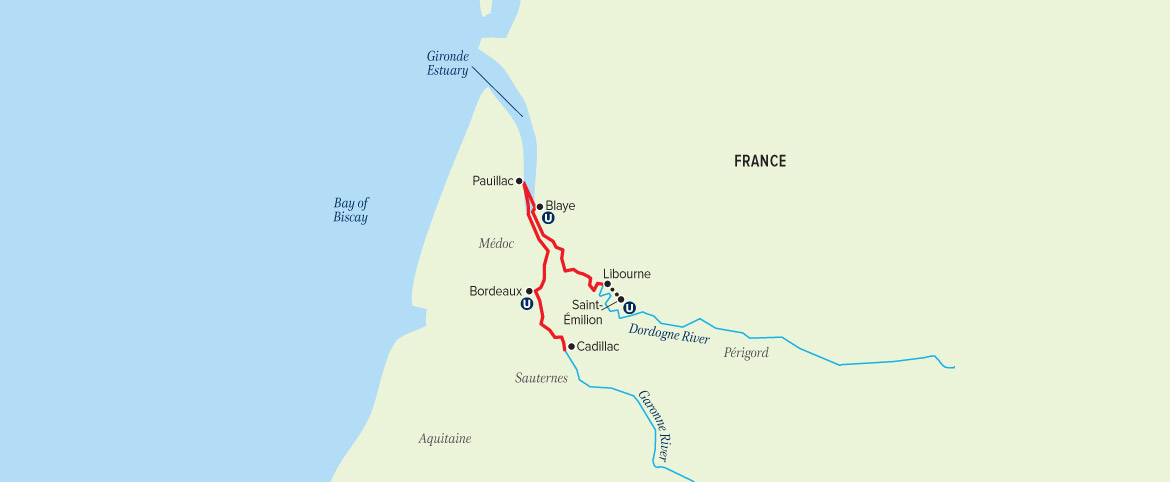 Day 1:
Bordeaux (embark)
Motorcoach Embark/Disembark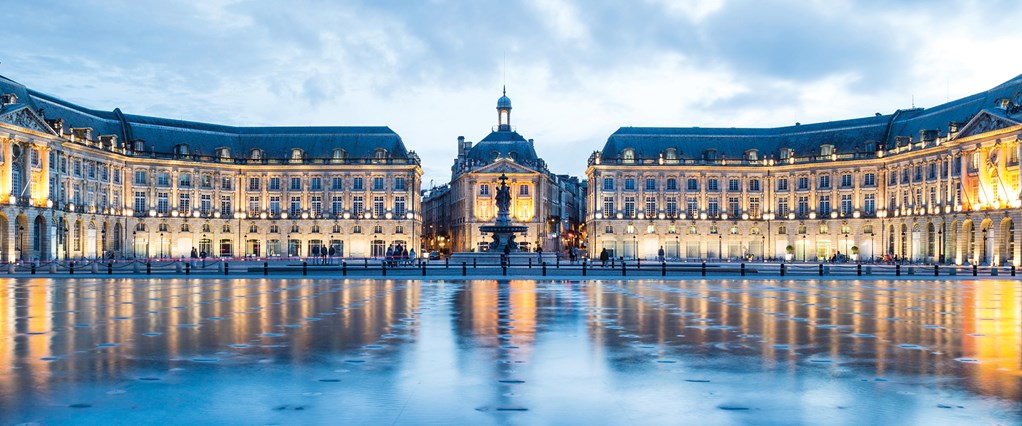 Arrive at Bordeaux-Mérignac International Airport. If your cruise package includes a group arrival transfer or if you have purchased a private arrival transfer, you will be greeted by a Uniworld representative and transferred to the ship.
Day 2:
Blaye, Bourg sur Gironde
Day 3:
Cussac Fort Médoc, Pauillac la Fayette
Choice of
Sauternes Vineyard with private artisanal wine tasting at Château de Cazeneuve
or
The colorful life of Toulouse Lautrec at Château de Malromé
Day 5:
Libourne

Full day in Libourne means you'll have plenty of time to explore the majestic landscape of villages and vineyards. Nestled along the confluence of the Isle and Dordogne rivers, the quaint town is as pretty as a postcard. On the outskirts of Libourne, you'll find neighboring Saint-Émilion. Discover the wine-making town by foot on a tour of its most picturesque sights, such as the magnificent Monolithic Church, all capped by a wine tasting at a beautiful château.
Featured Excursion
:
Saint-Émilion walking tour with wine tasting
Day 6:
Libourne, Bordeaux
The French insist that the key to their superb wines is the soil in which they're grown, the terroir. That same terroir also makes for extraordinary produce—the foundation for the country's acclaimed cuisine—as you'll discover today at a local farmers' market.
Featured Excursions:
Libourne "Village Day" with farmer's market
Day 7:


Bordeaux
 There's so much to discover with a full day in Bordeaux' port of Quai des Chatrons. The architecture is impressive, the wine is exquisite and the shopping is to die for. Explore La Cité du Vin, a one-of-a-kind cultural center and museum that brings the heritage of wine to life through interactive exhibits, shows, academic seminars and more. Do as the locals do and uncover Bordeaux' unique heritage on a walking tour or choose to traverse the city by bike. Celebrate the end to a spectacular trip with a farewell dinner onboard.
Choice of
"Do as the Locals Do" Bordeaux walking tour
or
"Let's Go" bike Bordeaux backstreets
Day 8:


Bordeaux (disembark) 
Disembark the ship. If your cruise package includes a group departure transfer or if you have purchased a private departure transfer, you will be transferred to Bordeaux-Mérignac International Airport for your flight home.
CLICK ON THE LINKS BELOW . . .
OVERVIEW
REVIEW THE ITINERARY |  FIND OUT MORE ABOUT THE SHIP
ABOUT BORDEAUX |  FAQs | ALL INCLUSIVE PRICING 
POST-CRUISE BROCHURE  |  POST-CRUISE REGISTRATION

Call or email and reserve today!  Space is limited.

by telephone:  805-443-7112 or 805-227-0830
Terroirs Travels is an Associate of Frosch Travel, one of the top ten leading travel management companies in America