LE JACQUES CARTIER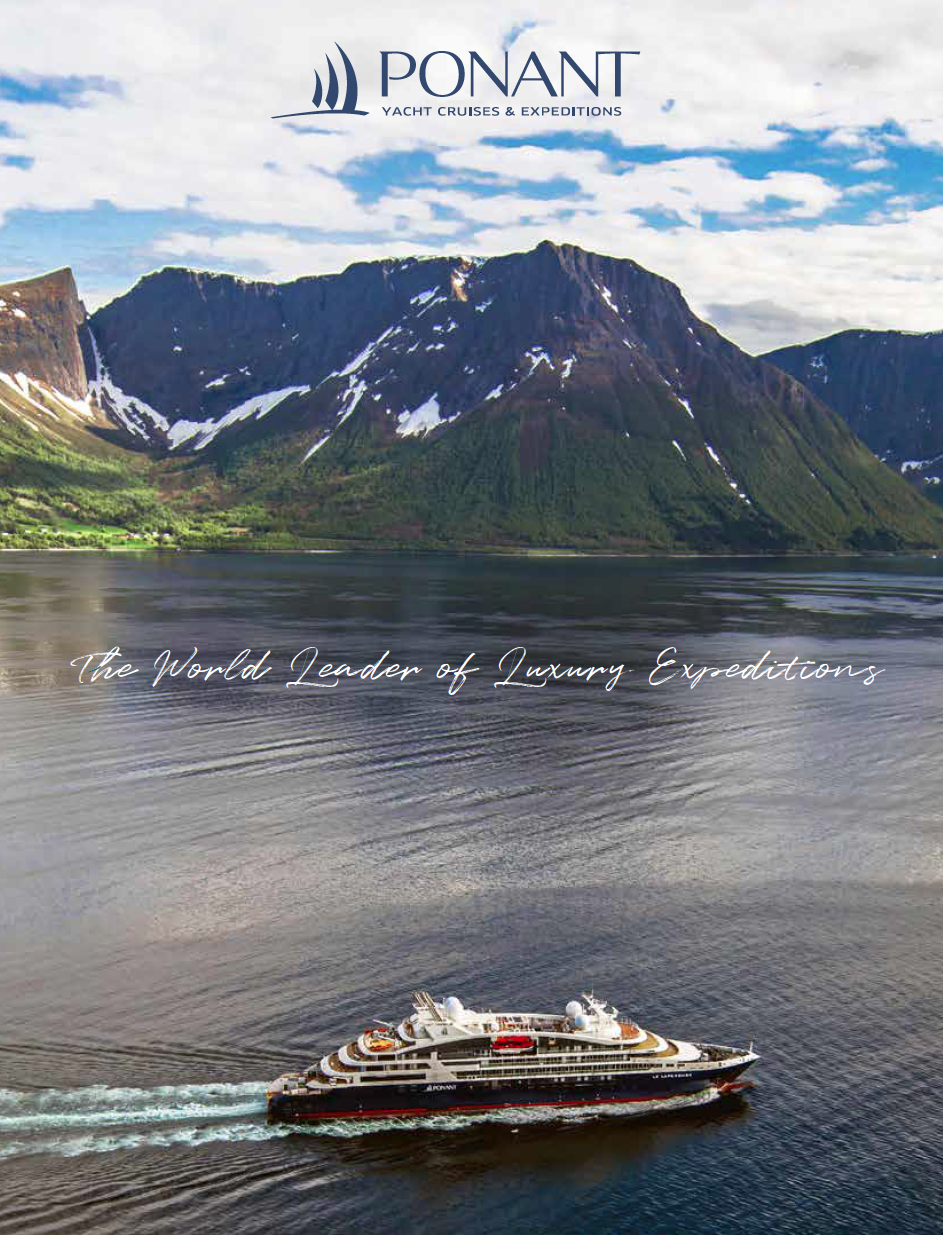 The PONANT Difference
PONANT's cruises transform the spirit through a well-balanced blend of state-of-the-art expedition hardware and luxury software. Our ships are the newest small expedition fleet afloat and visit remote regions and small ports that are inaccessible to larger vessels. Purpose-built for expeditions, the ships combine the latest technology with understated elegance, outstanding guest accommodations and numerous public facilities. The PONANT fleet has the coveted distinction of being certified "Clean Ships", signifying that they meet the highest standards for energy conservation and resource management.
Featuring only 92 staterooms, capacity of 185 passengers, with a crew of 110 you will enjoy an intimate and cozy atmosphere with a French flair!
A cozy, friendly atmosphere, 5-star services, a deep-rooted maritime tradition, carefully planned routes, exclusive ports of call.  Discover the French Cruise company PONANT!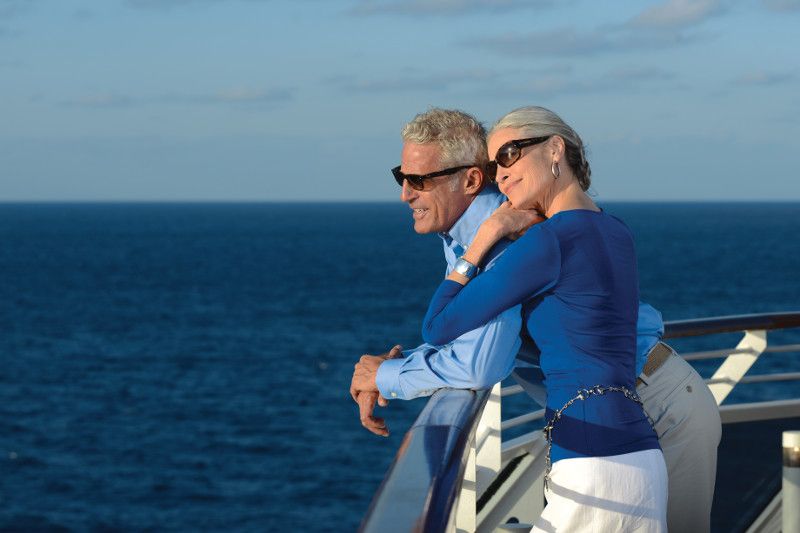 Public Areas
LOBBY
1,507 sq. ft.
Concierge lounge including reception and customer relations.
RESTAURANTS
• Panoramic Restaurant
2,798 sq. ft.


Inside capacity: 184 Outside capacity: 35
Main dining room for breakfast, lunch, and dinner serving French and international cuisine. Cold buffet for salad, dessert, and cheese.
• Grill Restaurant
2,530 sq. ft.
Capacity: 70 (outside only)
Casual eating venue for lunch and dinner.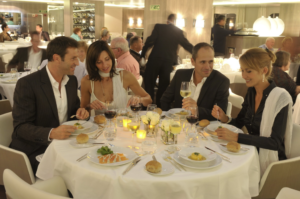 LOUNGES
• Main Lounge
2,153 sq. ft.
Capacity: 184
Accommodates all guests. Afternoon tea, lounge, live music, dance floor, and cocktail bar. Access to outside pool area.
• Observation Lounge
Smaller lounge surrounded by windows with bar and library.
Multi-sensory underwater passenger lounge, a world first.
• Pool area
Infinity pool, solarium, lounge chairs, bar.

Ship Specifications
• Length…………………. 430 ft.
• Beam………………….. 59 ft.
• Draft…………………… 15 ft.
• Average cruising speed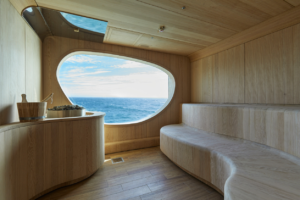 …… 12.5 knots
• Ice Class ……………….. 1C
• Classification …………… Bureau Veritas
• Flag …………………… French
• Guest Decks…………….. 5
• Crew members………….. 110
• Guest capacity ………….. up to 184 guests (double occupancy)
• Staterooms with balcony …. 88
• Suites with bay windows
and terrace …………….. 4
• Zodiacs………………… (Mark V HD)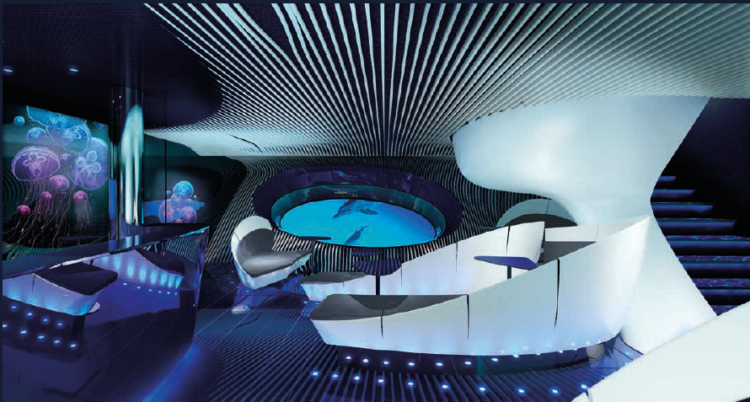 • Blue Eye Underwater Lounge
807 sq. ft.
Capacity: 40
Multi-sensory underwater passenger lounge, a world first.

The lighting in the lounge is developed through touches, disseminated in the space, allowing the spirit and the gaze to dive into the spectacle unfolding outside. The mural décor disappears to make way for the integrated digital screens projecting the images filmed live by three underwater cameras.
Placed at the ship's strategic points, these cameras enable guests to witness, for example, the spectacle of dolphins playing in the bow waves.
CLICK ON THE LINKS BELOW . . .
OVERVIEW
REVIEW THE ITINERARY | EXCURSIONS | GASTRONOMY
FIND OUT MORE ABOUT THE SHIP | DECK PLANS AND STATEROOMS
ALL INCLUSIVE PRICING | BOOK YOUR CRUISE NOW
 Let's take your next trip together!
by telephone:  805-443-7112 or 805-227-0830
Terroirs Travels™ is an Associate of Frosch Travel, one of the top ten leading travel management companies in America