New in Paris: In-Suite Private Jazz Concert at Le Royal Monceau
Travel writer and Paris expert Mary Winston Nicklin gives jazz fans another reason to visit the City of Lights: a private jazz concert at the Phillipe Stark designed Le Royal Monceau-Raffles Hotel:
Find our more about "Jazz it Up" here.
Joël Robuchon to open new restaurant in Bordeaux
Awarded 25 Michelin stars in restaurants around the globe, acclaimed chef, Joël Robuchon, will soon open a new l'Atelier in Bordeaux, set in a historic hôtel on rue de Tivoli and focused on local cuisine made with the region's rich bounty.
Click on the Bordeaux l'Atelier Restaurant for more details.
Top Ten Affordable Restaurants in Rural Tuscany
It is possible to eat well and still keep your budget in check when traveling in Tuscany. Travel writer and longtime Florence resident, Nicki Swallow shares her Top Ten Affordable Rural Restaurants in Tuscany suggestions.
Read the Affordable Restaurants in Rural Tuscany page for full details.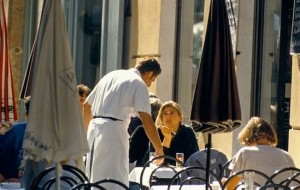 Vienna Bars and Restaurants for a Special Occasion
One of the best ways to enjoy Vienna, Austria is through its bars and restaurants. Vienna expert, Diane Naar-Elphee shares her favorite Viennese locations to celebrate or just take in the local scenery.
Click the Vienna Bars and Restaurants page for full details.

French Facts: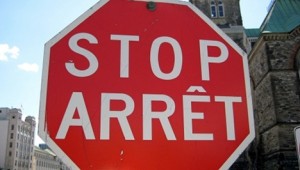 Did you know that in all of Paris there is only one 'STOP' sign? That means those who drive in Paris must take care! Remember: the traffic coming from your right has priority. The following article from The Local – Frances's news in English is informative and reveals where the lone Paris stop sign lives. http://www.thelocal.fr/20121004/paris-only-has-one-stop-sign-police
APP OF THE MONTH: OffMaps2

When traveling internationally, most of us are a little weary about using our cell phones and incurring outrageous charges from our mobile phone companies upon return, especially our mail applications.
Most native map applications require data connection to locate the smartphone and load the appropriate map. What to do? Down OffMaps2, the cheapest way to navigate abroad with no costly data-roaming required.
The concept is simple. After downloading the app, navigate through their extensive library of over 4000 location-specific maps and download the ones appropriate for your trip. The crisp, detailed maps are stored directly on your smart phone and accessible without any internet connection whatsoever.
The maps can also be searched offline for specific streets, points of interests or addresses. Wikipedia is integrated within the maps, allowing you to read the full articles about specific locations while offline.
Arguably, the best feature, OffMaps even provides public transportation overlays for subways and busses in select cities. Navigating a new city (offline) has never been so easy!
Price: $.99 on iTunes with 2 free map downloads; additional maps can be downloaded in packages of 3 for an additional $.99.