Lyon

to

Avignon | 8 Days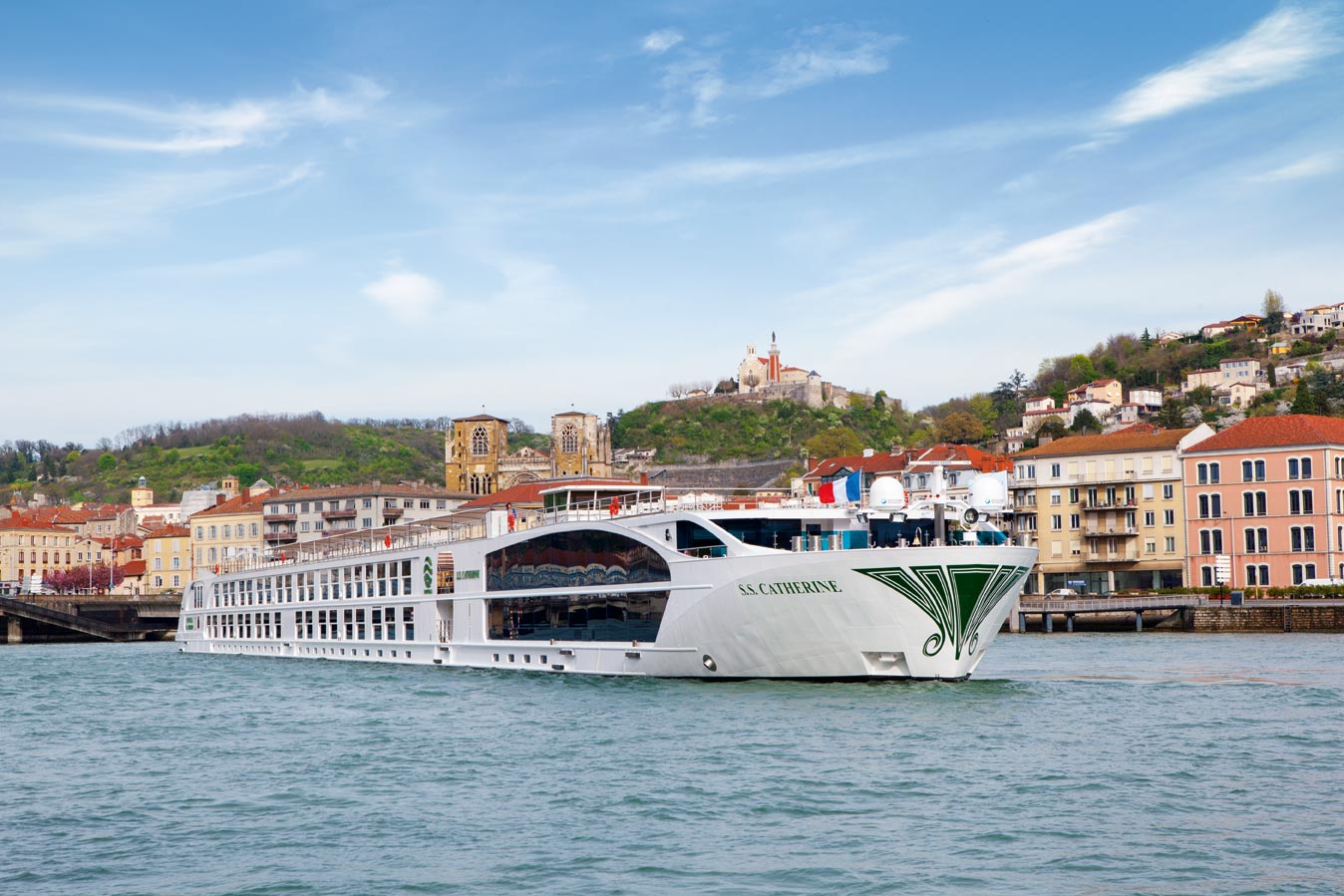 Day 1:
Lyon (embark)
Arrive at Lyon-Saint Exupéry Airport, where you will be transferred to the ship.
Day 2:
Macon (Beaune)
FEATURED EXCURSION: Beaune, Hospices de Beaune
Located in the heart of Burgundy, Chalon sur Saône is an important center of the French wine trade. Burgundy's wines are celebrated all over the world; in fact, the wines of this region, along with those of Bordeaux, are the reason France is famous for its wine. You will journey to nearby Beaune to visit the famous Hospices de Beaune, a charitable hospital; the hospice monks have been making wine for auction (in order to support their charities) since the 15th century. You can marvel at the hospital's magnificent multicolored tile roof before exploring the bounteous market stalls. In the evening, enjoy a Captain's Welcome Reception and Gala Dinner.
Day 3:
Lyon
FEATURED EXCURSIONS: Exclusive "Do as the Locals Do" Lyon gourmet tour or exclusive Silk Weavers walking tour or exclusive guided "Go Active" bike tour of the Lyon Peninsula, and exclusive Lyon "Illuminations" tour
Lyon is France's lively and creative capital of gastronomy. Today you'll stroll Les Halles, Lyon's world-famous food market, like a local, taking in the 59 elaborate food stalls, bars, and restaurants. Enjoy the hum and thrum of this culinary mecca. Or, you can visit the city's old Quartier St. Jean, as you follow in the steps of the great silk weavers. You'll see spectacular examples of medieval and Renaissance architecture, including the Cour des Loges and La Tour Rose, before meeting with a modern-day silk weaver who will demonstrate his or her stunning craft on a Jacquard loom. Alternately, if you're feeling active, you can take a bike ride along the peninsula, a strip of land with the Saône on one side and the Rhône on the other. This evening, see Lyon by night on a stunning "Illuminations" tour—unravel the secrets and scandals of the past, all while admiring the beautifully lit cityscape.
Day 4:




Tournon (Tain l'Hermitage)
FEATURED EXCURSIONS: Choice of exclusive Tournon and Tain l'Hermitage "Village Day" with wine tasting or Hermitage Vineyards walking tour with wine tasting 
Nestled among famous vineyards, the twin cities of Tournon and Tain l'Hermitage are an ideal destination for true connoisseurs of wine. Visit Tournon and its historic castle, then cross the Marc Seguin suspension bridge and indulge in some midvalley Côtes du Rhône wines from the Hermitage, a wine-growing district credentialed by Louis XIV. Or, if you're feeling particularly active, you can visit the Hermitage vineyards. Spectacular views await, as do delicious wines and delectable treats. 
Day 5:
Viviers, Avignon
FEATURED EXCURSION: Exclusive "Intimate Viviers through music" tour 
Lovely Viviers, which developed around its 12th- century cathedral, retains much of its historic charm. Founded in the fifth century, Viviers was once an important regional capital; stone houses, dating to the Middle Ages, still line the tiny lanes. You'll walk through its charming Old Town, seeing a mix of medieval and Renaissance structures, including the Maison des Chevaliers (House of Knights), before climbing Rue du Château to reach St. Vincent Cathedral. After enjoying the stunning views, you'll be welcomed into the 12th-century cathedral for a lovely recital of music composed by Puccini, Bach, and Handel.
Day 6:
Avignon
FEATURED EXCURSIONS: Choice of Avignon walking tour and Palace of the Popes or exclusive "Off the Beaten Path" Avignon walking tour or exclusive guided "Go Active" kayak ride on the Gardon River 
Avignon, a UNESCO World Heritage Site, brims with history, culture, art, and life, as you'll see on your walking tour of the "City of the Popes." Start at the medieval ramparts and continue to Clock Tower Square, where colorful café terraces face the magnificent City Hall, the Opera Theatre, and classic mansions. Then it's on to Popes' Palace Square for an inside view of the maze of galleries, chambers, and chapels that make up the grand Palace of the Popes, where seven fourteenth-century popes resided during a turbulent period in church history. Or opt instead to discover Avignon's picturesque hidden alleys and secret squares on an exclusive guided tour that takes you "off the beaten path." Alternatively, spend a fun and relaxing afternoon paddling the clear, tranquil waters of the Gardon River. You'll paddle from Collias to Remoulins, gliding under the arches of the two-thousand-year- old UNESCO-designated Pont du Gard.   In the evening, enjoy a Captain's Farewell Reception and Gala dinner.
Note: The kayak ride on the Gardon River is only available for May– September departure dates.
Day 7:
Tarascon (Arles or Tarascon)
FEATURED EXCURSIONS: Choice of Arles walking tour with food market visit or Tarascon walking tour 
Enchanted by the light and the vivid colors of Provence, Vincent van Gogh produced more than 300 paintings and drawings in just 15 months, including Starry Night. During your walking tour, discover Van Gogh's Arles, as well as a wealth of fascinating Roman monuments, among them the Amphitheater and the Baths of Constantine, which were built in the fourth century for the emperor's personal use. Then visit the food market, and you'll find plenty of local delicacies, including Burgundian and Jura cheeses, heirloom vegetables, honey, and sausages.
Or opt instead to explore the historic heart of Tarascon, with its charming Provençal architecture, medieval church, and beautifully preserved Renaissance palace. If you're entranced by Provence's distinctive printed fabrics, you'll have the opportunity to learn more about them at the Souleiado Museum.
Day 8:
Avignon (disembark)
Disembark the ship and transfer to Marseille International Airport for your return flight home or extend your stay with a visit to Aix-en-Provence.
Note: Order of sightseeing may change throughout the itinerary.  Substitute visits to other sites may occur during your trip due to water levels or other uncontrollable factors.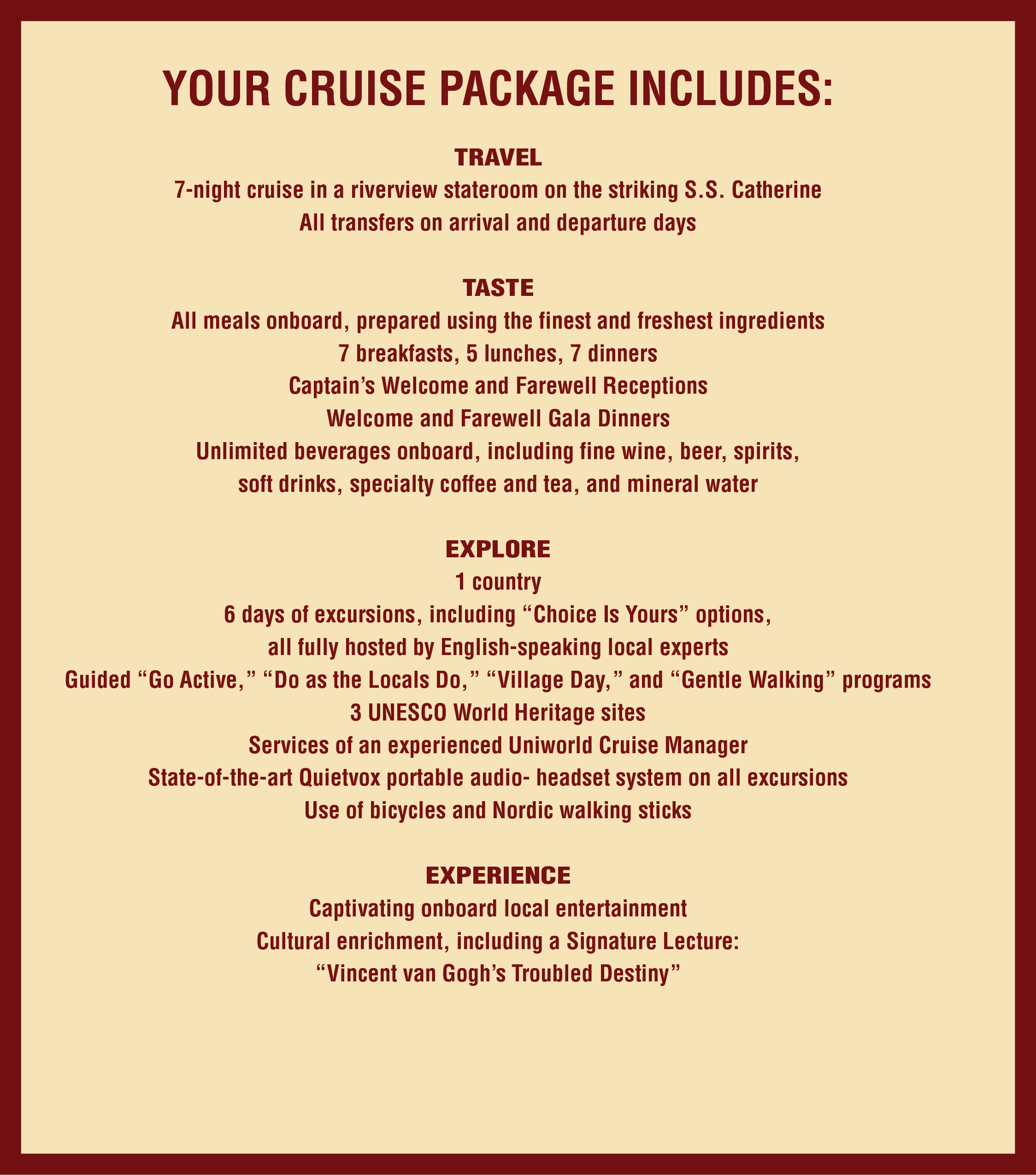 Call or email and reserve today, take advantage of early booking discounts!
by telephone:  805-443-7112 or 805-227-0830
Terroirs Travels is an Associate of Frosch Travel, one of the top ten leading travel management companies in America