Mississippi Dinner Menu Highlights
The Mississippi River region is known for its elegant mix of fascinating cultures which have turned out some of the most tantalizing cuisines in the nation. American Cruise Lines' team of master chefs season each dish with a dash of culture from the particular port you are visiting. Enjoy Cajun and Creole cuisine in New Orleans; compare the famous barbecue of Memphis and St. Louis; and enjoy southern inspired refreshments such as mint juleps and fresh iced tea.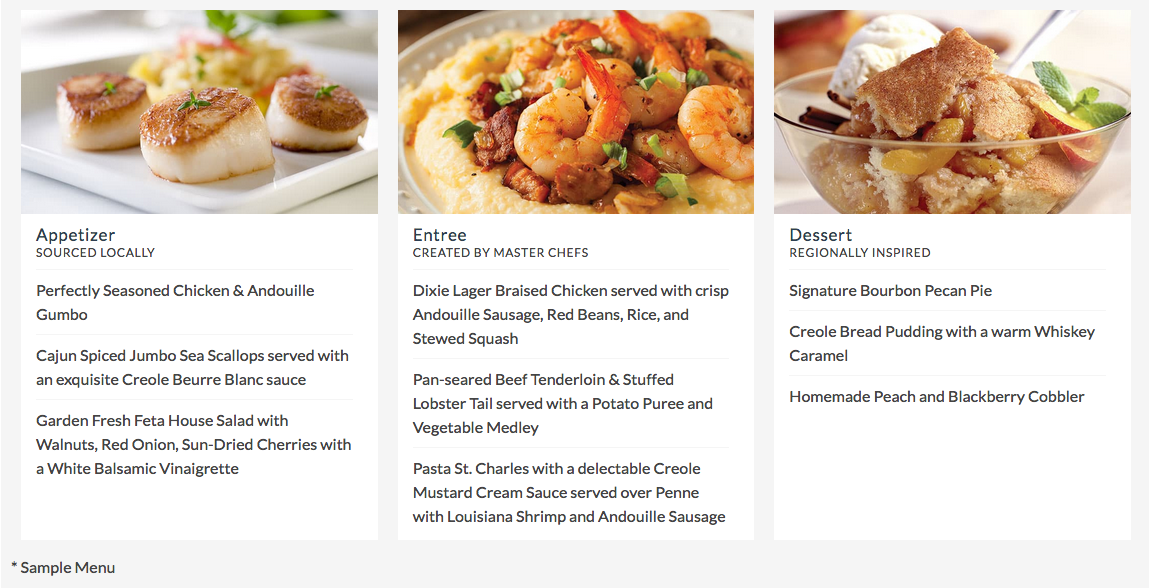 Our Promise
Fresh produce, seafood and meats sourced as near as possible to the cruise
Provide a masterful culinary experience using sustainable ingredients
Support farmers' markets and small American businesses
Communicate with local vendors and Seafood Watch when selecting fresh seafood
Limit waste by offering half-portions and carefully customized menu options
CLICK ON THE LINKS BELOW . . .
REVIEW THE ITINERARY | FIND OUT MORE ABOUT THE SHIP
| FINE DINING ABOARD THE QUEEN OF THE MISSISSIPPI | ENTERTAINMENT & EXCURSIONS
ALL INCLUSIVE PRICING | BOOK YOUR CRUISE NOW

by telephone: 805-227-0830 or 805-443-7112
Terroirs Travels is an Associate of Frosch Travel, one of the top ten leading travel management companies in America