REGISTRATION FORM, TERMS AND CONDITIONS
15c Overview
Itinerary | Shore Tours | About the Ship | Onboard Programs | FAQs | 15c Pricing
Pre and Post Cruise Stays | Travel Insurance | About Frosch
Uniworld Mandatory Passenger Info/ Express Check-in
Bordeaux to Bordeaux | 8 Days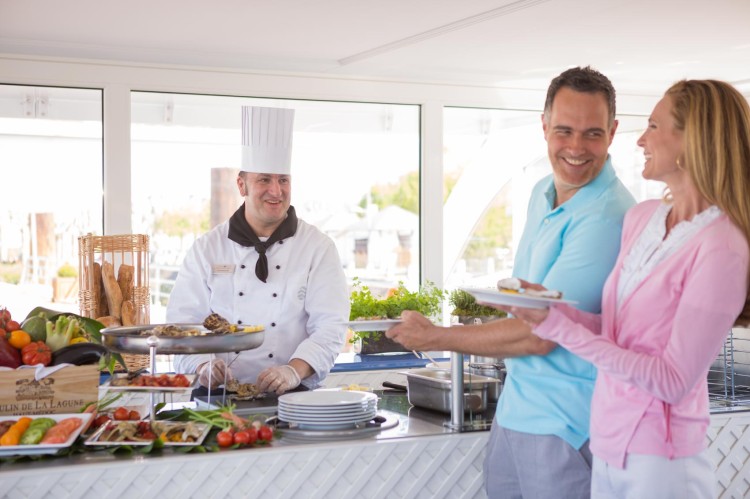 Day 1:
Bordeaux (embark)

Arrive at Bordeaux–Mérignac International Airport, where you will be transferred to the ship. Your ship is conveniently docked right in the heart of the city, so if time allows, stroll to the nearby food markets or visit the popular Saint-Michel antique market.
Day 2:


Cruising the Garone River and Gironde Estuary, Pauillac
FEATURED EXCURSIONS: Choice of Médoc panoramic tour with exclusive wine tasting or exclusive guided "Go Active" vineyard bicycle ride with wine tasting
Set sail on the Garonne for the pretty town of Pauillac, gateway to the storied Médoc wine route. In Pauillac, you'll begin a panoramic tour of the heart of the Haut-Médoc AOC (or appellation d'origine contrôlée, a geographical designation that denotes where grapes are grown) before enjoying a visit to a winery where you'll get a chance to taste the celebrated Médoc wines. Or experience the terroir in an entirely different way: with a guided bike ride through the beautiful Médoc vineyards. You'll get an up-close look at the vines and a real feel for the atmosphere—the earth, the sunshine—of this famous wine-growing region. In the evening, enjoy a Captain's Welcome Reception and Gala Dinner.
Day 3:


Libourne (Saint-Émilion)

FEATURED EXCURSION: Saint-Émilion walking tour with wine tasting
Saint-Émilion offers exceptional historic architecture, and historic vineyards, too. The Romans were the first to plant grapes here, and this was the first vineyard region to be protected by UNESCO. The town, built atop limestone hills, offers many interesting shops, but what makes it extraordinary is what exists below the cobbled streets—Saint- Émilion's Monolithic Church, which dates back to the 12th century. After touring Saint-Émilion, you'll visit the cellars of a Premier Grand Cru estate where you'll taste some of the world's most highly rated wines.
Day 4:


Libourne (Bergerac)
FEATURED EXCURSION: Bergerac city tour
Bergerac, which is located in the southernmost part of the Périgord and boasts 12 AOCs, is your jumping-off point for today's adventure. On your walking tour of the town you'll explore the popular farmers' market, hear the fateful story of Cyrano de Bergerac and his Roxanne, and watch the flat- bottom boats glide along the river. Stop at the 16th-century Château de Monbazillac, which offers marvelous views overlooking Bergerac and the Dordogne River. The drive along the Dordogne is an especially scenic one, and you'll cross bridges to explore charming bastide villages on both sides of the river.
Day 5:


Blaye, cruising the Garonne River, Bordeaux
FEATURED EXCURSIONS: Scenic drive along the Route de la Corniche Fleurie with Blaye Fortress and exclusive private evening tour of Bordeaux
Be treated to a scenic drive alongside limestone cliffs on a little road called the Route de la Corniche Fleurie. The road winds through the picturesque hamlets of Pain de Sucre, Marmisson, and Roque de Thau, where you'll find charming stone houses built by 19th-century ship captains. Return to Blaye for a guided walk through the 17th-century citadel built by famed military engineer Vauban. Its fortress and tunnels are a UNESCO monument. Board the ship to sail back to Bordeaux. Upon returning to Bordeaux, enjoy an exclusive evening tour. Bordeaux under the stars—what could be more magical? After Paris, Bordeaux has more protected buildings than any other French city. From the alleyways of the Saint-Pierre district to the avenues of the Place des Quinconces, you'll see why Queen Elizabeth II deemed Bordeaux "the essence of elegance."
Day 6:


Cadillac, Bordeaux
FEATURED EXCURSION: Cadillac, châteaux, and Sauternes vineyards with exclusive artisanal wine-pairing lunch at Château d'Arche
Vous êtes arrivé à Cadillac, the area known for producing sweet dessert wines under the celebrated Cadillac AOC designation. Today, you'll embark on a study of Sauternes, the sweet wine which is named for the region. Sauternes is made from grapes that have been affected by Botrytis cinerea, or noble rot, a fungus that causes a raisin-like decay, resulting in a concentrated and distinctly flavored sweet wine. You'll meet the winemakers and enjoy an elegant wine-pairing lunch at Château d'Arche, a nearly 100-acre vineyard with a 17th-century manor house. Enjoy a fabulous luncheon paired with three Sauternes wines of different estates and vintages. You'll discover the characteristics of each wine: the flavors that result from the different terroir and the different personalities of the wine makers. This wine not only pairs well with desserts—it also proves an exciting match to smoked salmon and beautifully balances a spicy meal. Learn how easy (and fun!) it is to pair a sweet wine with a whole new variety of dishes. The tour concludes with an opportunity to see the grounds of the legendary wine estate, Château d'Yquem, a Premier Cru Supérieur and producer of some of the world's most sought-after and exclusive wines. A special Captain's Farewell Reception and Gala Dinner will be prepared for you this evening.
Day 7:


Bordeaux
FEATURED EXCURSIONS: Choice of exclusive "Do as the Locals Do" Bordeaux walking tour or exclusive guided "Go Active" bicycle ride through the city
See Bordeaux à pied on a fascinating walking tour of the Golden Triangle, where you'll encounter the very best the city has to offer. Explore luxury food halls, sample Bordeaux's famous canelés and chocolates, discover marvelous 18th-century architecture, and visit an elegant wine bar popular with locals. If you're looking for something more active, enjoy the "Pearl of Aquitaine" from the seat of a bike on a guided ride. You'll have plenty of free time to further enjoy Bordeaux on your own. Revisit some of the places you saw on your tour, explore new sights, or indulge in a little shopping. The choice is yours!
Day 8:



Bordeaux (disembark)
Disembark the ship and transfer to Bordeaux– Mérignac International Airport for your flight home.

Call or email and reserve today, take advantage of early booking discounts!
by telephone:  805-443-7112 or 805-227-0830


Terroirs Travels is an Associate of Frosch Travel, one of the top ten leading travel management companies in America